On this page I share the major events of my pre- and post-accident life. I start with my injury, discuss my successful employment history, share my early interests, and finally give some details of my accident.
Injury: In December 1977, long before passage of the Americans with Disabilities Act or much awareness about persons with disabilities, I became disabled in a sudden and violent automobile accident. I was 23 years old. My hospitalizations – both acute care at Good Samaritan Hospital in Downers Grove, Illinois and rehabilitation at Marianjoy Rehabilitation Hospital in Wheaton, Illinois – took more than six months. During my time in these hospitals, I don't recall any difficulty accepting the fact that I was severely damaged and would never walk again.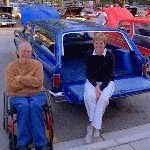 The psychologist at Marianjoy may have had a different view of the situation. The first time I went home for a day visit, she warned my mother to keep me away from knives because she felt that I was suicidal. I remember her quite vividly though I don't remember her name. My view of her approach is still negative. She assigned emotions, anxieties and other problems to patients as a result of their specific injury. Her view was the stroke patients all had one set of problems while the spinal cord patients had a different set, always attributed to their injury and never the person.. I disliked her intensely, which perhaps comes through here.
Today I have a continuing distrust of psychologists. The stay at the rehabilitation center was physically tough. At first I did not have the strength to lift my head from the bed nor could I sit upright without passing out. I needed special prism glasses to see people and the TV as they turned my vision 90 degrees. Eventually I developed sufficient strength and the tolerance to sit up. After three months in rehab, I was deemed rehabilitated and released from the hospital. My mother had made the necessary adaptations to her home, and I went to live with her. My domain was the basement – a pretty nice basement – but nevertheless still a basement.
Employment: About a year after my release from the hospital, while attending a stock car race at Santa Fe Speedway, I was offered my first post-accident job. One of the owners of Horton Electric happened by and offered me an opportunity to enter data into their computer. They were installing a Qantel mini-computer. Little did I realize that this would be my springboard into the fast-paced world of technology. In 1979 I moved from the family farm to my own modest ranch-style home in Hinsdale, Illinois. During this period I lived alone and independently.
The job at Horton lead to my being recruited by a local Qantel distributor to be a programmer. Soon I started moonlighting with another distributor and began selling Qantel computer systems. My first sale was to John Shankland, who became and remains one of my best friends. Eventually I left the Qantel distributor, along with Judy Miller, and founded the Richard Morton Company. RMC, as it was known by staff and customers, grew into a nationally-recognized systems integrator and consulting company with over 90 employees supporting organizations worldwide. The firm had three primary areas of expertise: Baan sales and consulting, Qantel sales and consulting, and C3 data collection.
In 1999 this firm, then known as RMC Solutions, was purchased by a group of investors and renamed FutureNext Consulting. After the purchase I became Senior Vice President of FutureNext. When FutureNext spun off the Qantel practice, I became Regional Director of Sales for Qantel Technologies. I am still active in this capacity; in November 2006 I assumed additional duties for oversight of their Chicago office. Some may find it interesting that FutureNext, after burning through 200 or so million dollars, was liquidated, and my old partner (with some minor financial assistance from me) acquired the core components of RMC and formed RMCis, which is known today as Crossroads RMC. See this eclectic compilation of press articles for more details.
Curriculum Vitae
Born: 1954
U.S. Citizen
Sex: Male
Injury: Spinal cord injury from trauma – T7 (actual deficit though is slightly higher and asymmetrical) – Paraplegic
Cause: 1977 automobile accident
Grade School: Field Park, Western Springs K-5, Grand Avenue School, Western Springs 6th grade
Middle School: McClure Junior High School, Western Springs 7-8 grade
High School: Lyons Township class of 1973, attended 1970 and 1971
College: None
Continuing Education: College of DuPage and all sorts of silly certificates/competencies from Microsoft, IBM, HP Compaq, SCO, Baan, Qantel and more…
Employment History (selected)
18-wheeler truck driver, Frank Cordray Motor Service (1974-1977)
Data entry operator, Horton Electric (1979)
EDP manager, Horton Electric (1980-1981)
Customer support technician, Midwest Business Computers (1981)
Programmer, Midwest Business Computers (1982)
Systems analyst, Midwest Business Computers (1983-1984)
President, Richard Morton Company (1983-1997)
Chief Executive Officer, RMC Solutions (1997-1999)
Senior Vice President, FutureNext Consulting (1999-2001)
Regional Director of Sales/Operations, Qantel Technologies (2001-Present)
Affiliations (selected)
As a small boy growing up in Western Springs, I enjoyed many opportunities provided by my permissive mother. My parents separated when I was around seven years old. After that all sorts of adventures took place, and as time and memory permits, I will add those stories.
Scuba Diving: In 1961 I took my first airplane ride. It was on a Boeing 707. The destination was Miami, Florida, and I was in the company of my mother, grandmother and sister. We were spending Christmas at the Doral Hotel. It was quite an adventure. My favorite TV show at the time was Sea Hunt starring Lloyd Bridges as Mike Nelson. It turns out that the Doral offered scuba diving to guests. My Mother convinced them to let me try scuba diving in their pool; open water diving was ruled out due to my young age, much to my chagrin. I took to scuba diving like a seal to water. From that day on, I spent a part of every remaining day diving in the Doral pool, imagining that I was Mike Nelson and having a ball.
The next year the family traveled to the Bahamas, staying at a now long defunct resort named Coral Harbor. It was a quite a fancy place in its day as I recall. The excitement on that trip was that I got to make daily dives in the ocean on coral reefs. The dive boat was named Manta, the owner was Howard Adamson and the dive master was a local named Oscar Lowe. Later they were profiled in a magazine story (Skin Diver, I think) because Oscar was one of the first divers to recover black coral. In those days the reefs had no protection. This picture (circa 1962 or 1964) shows me scuba diving. Unfortunately, my red socks are not visible. I have a freshly purloined piece of fan coral in my little mitts. Regrettable evidence that I am guilty of the crime.
From about age 14, my family started going to Door County, Wisconsin in the summer. At first we stayed at "On The Rocks," a lodge for divers. I resumed scuba diving and dove extensively in the Green Bay area on old shipwrecks. A few deep dives were done at Poverty Island on the Roen barge and crane, which sank in 1959. But most dives were on 19th century wrecks. Some of my favorite dives were on the steamer R. J. Hackett, which was built in 1869 and sank in 1905 off Whaleback Shoal. The steamer Louisiana built in 1887 and sunk in Washington Harbor was another frequent dive. Of course, all sorts of 19th century wrecks were also available off Pilot Island. I did this for three or four summers and dragged all sorts of interesting artifacts from the wrecks probably something that should have been discouraged but back then wasn't. All of these artifacts have now been donated to the Door County Maritime Museum in Gills Rock, except for one. The Schlitz beer bottle I found in Washington Harbor was estimated at the time to have been about 100 years old based on the fact that part of the bottle was hand blown and the rest was machine made. Unfortunately, somewhere in time that artifact has disappeared.
Camp: I was a camper at Camp Easton for Boys in 1962, 1963, 1964, and 1968. Camp Easton was located outside Ely, Minnesota on Little Long Lake. I had one year at Camp Kooch-a-Ching located somewhere around International Falls, but I don't have the same fond memories for that camp as I do for Easton. When I attended Camp Easton, the sessions lasted for seven weeks, although campers could elect to attend the first three-week or the last four-week session if the full session didn't work for them. I always took the seven-week program. I am sure that my mother encouraged the longer sessions just to be rid of her "awful" child for the summer. It's remarkable to me that children as young as seven got the opportunity to experience these adventures. I wonder if it happens today to the extent it did back then. Anyway, the memories of Camp Easton at my advanced age (53 when this page was written) are still strong. Those experiences helped shape my life. I participated in most, if not all, of the activities. I remember riflery, archery, crafts (Rex Replogle was the instructor might have been his brother Ray), sports, swimming including Red Cross Lifesaving training, sailing, canoeing, water skiing, nature/survival classes and scuba diving (Gary Papermaster was the instructor).
During the camp year, each cabin would take one (or maybe two) week-long canoe trips. Often during these trips we would stop on an isolated island for a root beer from Dorothy Molter (Dorothy was quite an interesting lady; a book has been written about her life, which I recommend to all who have a fondness for the wilderness and strong American spirit) – a wonderful experience for a little boy. I suppose that the root beer lady story may have come to me from my experiences at Kooch-a-Ching, but I seem to remember multiple stops, which would rule out Kooch. I remember portages – some of which were quite long, at least for a small child. In the later years I was big enough to handle the canoe on my own during a portage. I felt a great sense of accomplishment by doing that chore.
I earned my Red Cross Lifesaving Certificate and my diving certificate at Camp Easton. I used the lifesaving training on two occasions. Once while scuba diving in Door County, Wisconsin in the waters of Green Bay, a diver became distressed because the current had taken him away from the dive boat. In another situation in an abandoned quarry located in the western suburbs of Chicago, a teenager was swimming at a local hangout in an off-limits forest preserve area on Willow Springs Road where unsupervised "kids" would hang out (yes, I was one of those kids). He began to struggle in the water a few hundred feet from shore. My Red Cross training and strong swimming skills, that were in part developed at Camp Easton, allowed me to make a difference in both cases.
I remember a few more things about camp life, such as the dining hall. On special occasions root beer floats (we may have called them black cows or some such name) were served. On some mornings cinnamon toast was available. I looked forward to those days. For special events or as an award, campers were given Mackintosh toffee candy from Canada. I don't know if it still is made today, but back then it was a coveted item.
On Sundays we were required to write to our parents. At first the letter writing was not supervised but apparently some of the campers ( I was one of the early adopters) took advantage of that and simply enclosed a blank sheet of paper. This was quickly discovered and subsequently each camper had to present his letter to the leader, who inspected them to ensure that indeed a letter had been written before it was placed into the envelope. If you didn't write the letter, there would be no meal until that deed was done.
Mini Bikes and Go Karts: When I was a teen, my friends Jerry, Alan and I decided that we would drive to my grandparent's farm located in northwest Downers Grove. Not a big deal, you might think, but we were only 13 years old or so, and our vehicles were an oddball collection of mini bikes and go karts. Alan's mini bike was one that I built using cast iron water pipe – not exactly a strong or lightweight material. Anyway we took off over the pedestrian walkway that crosses over I-294 in Western Springs, drove to Spring Road and stopped for fuel at a long-gone gas station by Graue Mill. From there we went down Spring Road to 31st Street. Heading west on 31st, we crossed Route 83, which at that time was controlled by a simple stop light. At that point we decided to take a break. After a short while an Oak Brook patrol officer pulled up. Our story was that we had pushed our vehicles all the way from Western Springs. He felt our engines and discovered all but mine were warm. Of course, we had an explanation for that too. I don't think he bought any part of our story and ordered us to push our vehicles back to the Oak Brook Police Station. The amusing part of this was that my centrifugal clutch was binding, so when I pushed the go kart, the engine started. I am sure the cop laughed all the way back to the station. Oh well, our parents were called, excuses were offered and punishments were delivered.
Even as a young boy I liked all things mechanical. When my mother bought me a bunch of nuts, bolts and washers from the hardware store, I was entertained for hours. Later I began to take things apart. Some of them never regained their original form as my skill wasn't quite up to that task. Mini bikes and go karts offered lots of entertainment. I had one of the original Honda Z50 Mini Trails. Around 1968, they were street legal and could be licensed in Illinois. Mine had plates, although I can offer no reason why as I wasn't old enough to have a driver's license. When I learned that the top-end an S65 Honda motorcycle fit my engine, off I went, got the required parts and hot rodded my mini bike. Later I saw an ad on the back of Popular Mechanics magazine offering Hodaka motorcycle engines for sale. I got one, worked out the fabrication and fitted that engine onto my go kart. At the time I doubt there were many other go karts that had a foot operated manual clutch, 4-speeds and could pull wheelies.
Then I moved on to cars. I managed to kill a few during my teenage years. I also suffered from radical "combinationitious" (I think it is a disease), like trying to run tunnel ram and later mechanical fuel injection on my Z28 knowing nothing about either. But, in the end, I think I turned out to be an OK, if self-taught, mechanic. I still have pretty good skills in that department. Today I satisfy that urge in my shop. When I feel the need, I machine and build small model engines that operate both on steam and fuel.
My few years in school do not elicit warm or fuzzy memories. At that time fake Rick was in charge. Along with all the insecurities of adolescence and my need for acceptance, I adopted the persona of a bad boy. I am sure many others have similar lingering memories. I regret my actions and that I squandered that time. It wasn't until I was well into my twenties that the real Rick began to emerge.
Skiing: Sometime around age 10 my Mother made arraignments with some old friends of hers – Jean and Dick Darby to host my grade school friend Mark and me for an introduction to skiing. My recollection of the trip is vague on some elements but generally consisted of Mark and I being put alone on the Burlington railroad's Denver Zephyr which upon arrival in Denver we were "collected" by the Darby's. We stayed with them and they outfitted us with really cool Northland wood skis and off to Lake Eldoro with their T-bar lifts for our lessons. I don't remember being a ski "prodigy" but I liked skiing enough to continue. Anyway after that adventure some local skiing took place in exotic locations like Four Lakes Village in Lisle Illinois (I think the vertical drop was about 70 feet), Alpine Valley, Wilmot Mountain, Chestnut Mountain and Indianhead Mountain in Michigan. From age 18 or 19, I escaped to Aspen, Colorado from late November to April and had a perfectly splendid time skiing. I did this for three consecutive years and developed into a capable, if not excellent skier, which I enjoyed greatly. Each year I spent somewhere between 100 to 120 days skiing. Most of that time I skied at Aspen Highlands because Aspen Ski Corporation, which controlled the other hills at the time, didn't offer a cheap way to ski. At the Highlands in late November, I participated in the instructor's clinic. The clinic cost something like a hundred bucks. For that you got a season pass for Highlands whether you were hired as an instructor or not. Shortly after completing the clinic, I was found not to be the "best" instructor and off I would go with my "free" season pass for the rest of the year. Sometimes I would decide to ski Ajax in the afternoon and would get a "free" lift ticket from someone quitting early. Here I am trying my best to look good (hard to look good with orange Hanson boots) at Highlands.
The places I lived in Aspen were amazing. Mrs. Mac operated a ski bums salvation – a converted house she called Snowchase at the bottom of Ajax Mountain on Mill Street. You had two choices: live in the cabin outback for 60 bucks a month or in the house for 90 bucks month. A bizarre collection of people (fifteen or twenty) lived there. I miss some of those people and the adventures. For example, Dana from California brought his goat, and Monk, who didn't ski, was always hanging around. As an upgrade from the Snowchase, I moved into the St Moritz. Michael and Susan were the owners at that time, and the rent for the month was somewhere around 120 dollars. That's where I met Kevin, a fellow ski bum from Maine and a good ole boy. I think Kevin still lives in the area.
On that note, I miss Ray Wisnewski, who was an excellent skier, friend, and my roommate in Aspen my first two years. Sometime in the late nineties Ray was found dead on a Chicago beach after apparently suffering a heart attack while windsurfing.
Work started to creep into my life during these "extended vacations." Generally I was employed in the seasonal construction trades (although I did mechanical work) from late spring to early winter in the early seventies. That lead to some degree of independence. In 1974 I went to work for Frank Cordray Motor Services driving a semi-truck with ZERO training. The job entailed going to steel mills and lake ports in Chicago and the surrounding areas in Indiana to pick up loads of steel and deliver them in the Chicago metropolitan area. My rig (GMC 9500 powered by a Detroit 238hp / 6-71 diesel tandem axel tractor), including a 28-foot flatbed, weighed 21,500 pounds when empty. This left a total load capacity (GVW 73,280 pounds in those days) of 51,780 pounds. Let me tell you how much fun it is hauling a single narrow coil of steel that weighs over 50,000 pounds, knowing that the chains securing the load were mostly illusionary. It improves your driving – however it doesn't improve the driving of others (mostly cars) who cut you off without thinking that their actions could result in rather negative consequences. I developed into a competent driver (teamster) – although the crash that put me in a wheelchair may contradict that statement. I actually enjoyed the job. A lot more talent is required to haul steel than you may think, but I will leave those thoughts for another day.
Accident: December 13, 1977 was not a particularly good night. I was driving my brand new 1978 Chevrolet C20 short-bed pickup truck on my way home from a particularly grueling day hauling steel. It was about 10 PM when I punched out from work. I was westbound on I-5 (now known as I-88, the Ronald Reagan Memorial Highway) and just past the Oak Brook (now removed) toll booth, when apparently I fell asleep at the wheel. This not a very good idea as the truck drove itself into a rather steep ditch between the roadway and the Eastman Kodak building (now Costco) in Oak Brook. It was a violent crash and rollover. The night was cold and very foggy. I went unnoticed in the ditch for about five hours. Upon discovery I was transported to the newly opened Good Samaritan Hospital in Downers Grove with a fracture of the spinal cord, numerous broken bones and a head injury. I spent the next few weeks in critical condition in the intensive care unit, followed with about six weeks more in ward 54, totaling almost three months at Good Sam. You might wonder – was I wearing a seat belt – and of course, the answer is no. Another interesting (at least to me) note. A few years ago, I was at Good Sam's x-ray department and the technician kept looking at me with sort of a funny look. After a while he asked me if I had ever been to the hospital before. I told of him the story of my accident. It turns out he was on duty that night and said to me, "We didn't think you were going to survive!" Ha – fooled him!