Adapting to your Environment: Generally I suggest that if you can adapt to your environment, don't modify. This suggestion should help you survive in places not under your control. Also on strictly a personal note, I don't like the appearance of many of the modifications that I have seen. Having said that, I do have some modifications to my bathroom, kitchen, and bedroom; I have also depended upon a dog. Also don't overlook the picture gallery as some hints and suggestions are only located there.
Bathroom: My modified bathroom has a hand shower with a floor drain located by the toilet. Tile makes the toilet area completely waterproof. I even have a shelf for shampoo and stuff. When I shower, I transfer to the toilet to perform the required tasks. This eliminates the need for a commode chair or shower chair and has the added benefit of enabling proper and thorough cleaning of all areas.
From my initial injury until January 2007, I used a standard height toilet. However, other than when I shower, the purpose of the toilet is limited. Urine is collected in a bag worn on my left leg between my knee and ankle. To empty it, I place my foot on the seat and drain the bag. So these comments are about my use of the toilet when I bathe.
After I was discharged from the hospital following a septic shock event in December 2006, I was very weak. Transferring to the toilet was such a challenging activity that I felt it posed an unacceptable risk. To make it easier, I replaced the standard height toilet with a "comfort height" toilet from Kohler. This toilet is about two inches higher than the standard height toilet. It enabled me to remain independent and capable of performing all of my own care without the risk that transfer to and from the other toilet presented. Now well into my second post-illness year, most of my strength has returned, but I continue to use the higher toilet.
The downside of the higher toilet is that my feet don't quite touch the ground. That is a little disconcerting and awkward, but it is manageable. One last point to consider – you will inevitably drop something while sitting on the toilet. Picking up dropped items is much easier for me with a standard height toilet than with the comfort height.
Kitchen: My kitchen has no apparent adaptations or modifications. I like to cook and operate very well in it. My kitchen is small and U-shaped with just enough room to allow the wheelchair to turn completely around in a circle.
My cabinets are standard height. I do not have a wheelchair cutout for the sink. What I do use is a small wooden tray; wood is important as the tray tends to stay on my lap better. When I use the sink, I am sideways to it, and I use the wood tray as my work surface. It's not an ideal arrangement but more than functional, and it works in any kitchen – anywhere.
I can reach most everything on the lowest shelf of the upper cabinets without any aid. For the higher shelves, I need to use a reacher. So I keep stuff I don't often use on the upper shelves. With a good reacher and a little planning, I can do most anything I want to do in the kitchen. Lazy susans are quite useful for corner cabinets as they are in "regular kitchens."
Look for front-mounted controls for the range and a downdraft vent on the range top as it eliminates any problems when reaching for a switch to operate the hood vent fan. I find refrigerators that have a full-width single door with the freezer on the bottom are the best. Stay away from double doors as I find them next to impossible to access.
Bedroom: I sleep on a Land and Sky pillow-top waterbed. It is the most comfortable bed I have ever found. In my experience, rehab folks don't recommend a waterbed. They apparently believe you can't transfer. That's complete rubbish.
I am always in some state of pain, and this bed offers me the most relief. There are a range of firmness options; I use a moderately firm model. The bed has the added benefit of not producing pressure sores. I have spent months recovering from a variety of problems that have kept me from moving off the bed without ill effects.
Another important dimension of the waterbed seldom or never considered is the thermal property of the mass of water. I do not use a heater because the pillow-top provides adequate insulation with the benefit of a sizable heat sink of the water's mass. This mass helps to dissipate any heat buildup (significant on more conventional style mattresses), which occurs when a paraplegic lays in one spot and doesn't move (much or at all) after being transferred onto the bed.
Update spring 2009: Recently I found the beginnings of pressure sores at the base of my spine around my coccyx (think butt crack- to be crude). I treated this new problem by using my Roho cushion in bed. I positioned the cushion so that my buttocks are centered on it. The pressure sores quickly cleared up and have not recurred. I use the cushion only at night, which seems to be sufficient to prevent any recurrence. You may think using the cushion in this manner is uncomfortable, but if I place a pillow under my back and head, I am comfortable. My assessment to the cause (aside from its pressure, dummy) is after almost 32 years of paraplegia and my advancing age, my skin is becoming less resilient, and I need this extra protection. Hopefully his prophylactic treatment of using the Roho cushion will have lasting benefits, and I won't have to consider other alternatives. Now its late summer of 2009 and I am have some problems with the skin at the base of my heel that's in contact with the bed. A dark circle is visible on my left heel about the size of a dime and, I believe this is pressure related. My treatment is to place a Roho cushion (from my wheelchair once I have transferred into the bed) under both of my calves and position my heels to extend just beyond the cushion and not contact the bed or the cushion. It's not hard to do and for the moment the subject area is stable. The skin has not opened or drained and the tissue seems to be intact so I think it looks like it will clear up without complication. I suppose the cushion might seem to be uncomfortable but the cushions support the majority of my body and it's actually quite comfortable.

Update summer 2013: I had two kidney stone surgeries this year as well as sepsis. (Great fun!) When I was discharged from the hospital, I was weak and for at least a few days it took all of my strength just to make transfers. The idea of the extra effort to land on top of a Roho seemed beyond me so I choose to wait a few days before trying. I did pay closer attention to my butt with concern of developing pressure sores. Well as time went on no sores developed and it's now been almost 60 days. I am continuing without using my Roho in bed. Who know why, but one possibility why is several years ago I was found to be deficient in vitimins D3 and B12 and now take supplements. I have no idea if this change played any role but it is nice to have something get better opposed to worse!
When selecting bedding materials keep in mind your feet. Heavy blankets won't be nice to your toes unless you provide protection. I don't use foot protection; I prefer a sheet and a lightweight comforter. The waterbed provides good, even support with no skin breakdown of the feet.
One reality – you will have a catheter failure from time-to-time, which depending on the bed making technique you use will result in a lot or a little of work. Here is what I do to keep clean and fresh bedding.
I place a waterproof covering over the pillow-top mattress cover, which is part of the Land and Sky waterbed. This covering is the "barrier of last resort" to protect the pillow-top, which while removable is a gigantic pain in the butt to remove and launder.
Then the mattress pad is applied followed with the fitted bottom sheet.
I place a cloth (do not use plastic as it will affect your skin) 40″ x 40″ Chux over the area that would become saturated with urine in the event of a catheter failure. It needs to be located more to the head of the bed than you may think.
Over this I place the regular top sheet and comforter.
I can perform all of these tasks myself. However, the fitted sheet is a difficult chore that I make every effort to avoid. I find it easiest to place myself at the foot of the bed and throw the bedding like a fisherman throws a hand net toward the head of the bed. If you don't get it right the first time, just try it again. Then roll to either side of the bed and adjust the sheet or the comforter as needed. I use lots of pillows to provide the support I need to "sit" in bed comfortably. A bed skirt, while having a nice appearance, will be torn by the wheelchair and is not worth the effort in my opinion.
My bed and headboard have become much more than just a bed. The headboard has storage areas. It extends my work areas. It becomes another entertainment area of the home as I routinely welcome friends and family into my bedroom for activities like conversation or watching television.
Dog: I have raised three dogs since my injury, all female yellow Labrador Retrievers. It's a little challenging, but the rewards and benefits are great. All of my dogs have performed some tasks that are inconvenient, difficult or create a hardship for me to perform alone. These activities range from getting the newspaper, retrieving stuff beyond my grasp or pulling my wheelchair on command. These specifically trained skills qualify them as service animals.
Regarding service animals, there are broad legal protections but unfortunately they are casually defined, and you may find yourself having to fight for what seems to the wheelchair user as simple common sense. Often necessary accommodations must be requested. Some frequently seen and granted accommodations include permitting service animals in spite of no pet or no dog policies, delaying cleanup of animal waste, eliminating on-leash requirements and removing weight limitations. This accomodation was written in an e-mail from my village administrator. Service animals need not be working and performing tasks all of the time to be granted these accommodations. However, the accommodations do not remove the burden from the disabled owner or handler to ensure that the animal does not become a nuisance at any time. Should you feel that a homeowners' association or other entity has acted incorrectly, you should consult some of the following for more information and/or help.
Department of Housing and Urban Development (HUD)
U. S. Department of Justice – Housing Enforcement Division
State Attorney General or attorney of choice.
University or college as a reference guide for some (but not all) accommodations routinely granted
Delta Society's National Service Dog Center
I would be remiss not to mention the companionship benefits these animals bring. Your dog will be your loyal friend for life. If you decide to welcome a dog into your home, you must be prepared to invest significant time with the dog to socialize and direct its behavior. Having an uncontrollable, mischief-causing dog would be a handful.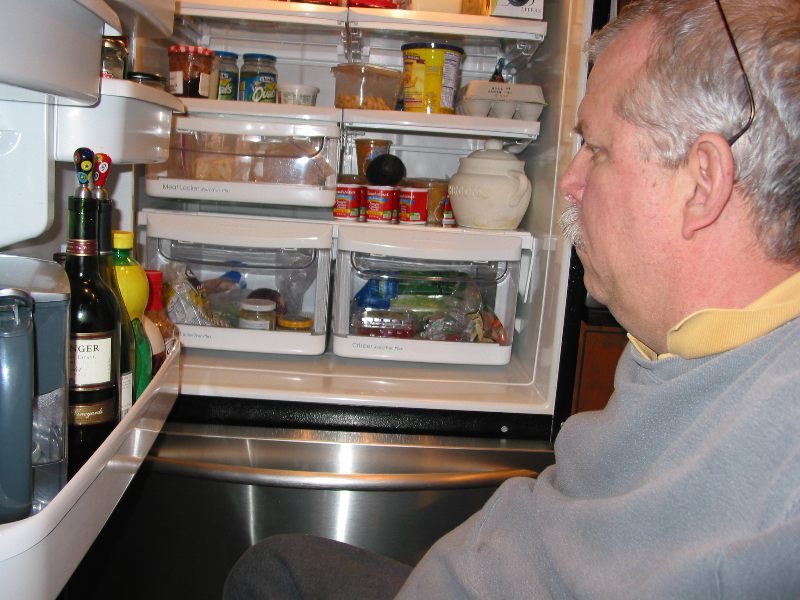 Refrigerator – note the bottom freezer configuration. This allows the frig door to open over my legs and this allows me to get as close as I like.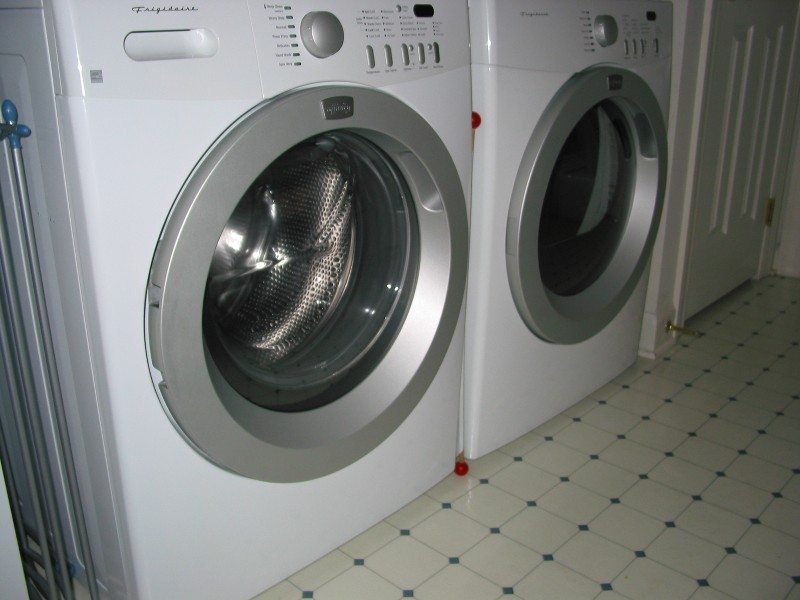 Front loaders are easy to use from wheelchair, top loaders are NOT! Doors are hinged on opposite sides allowing easy transfer of clothing.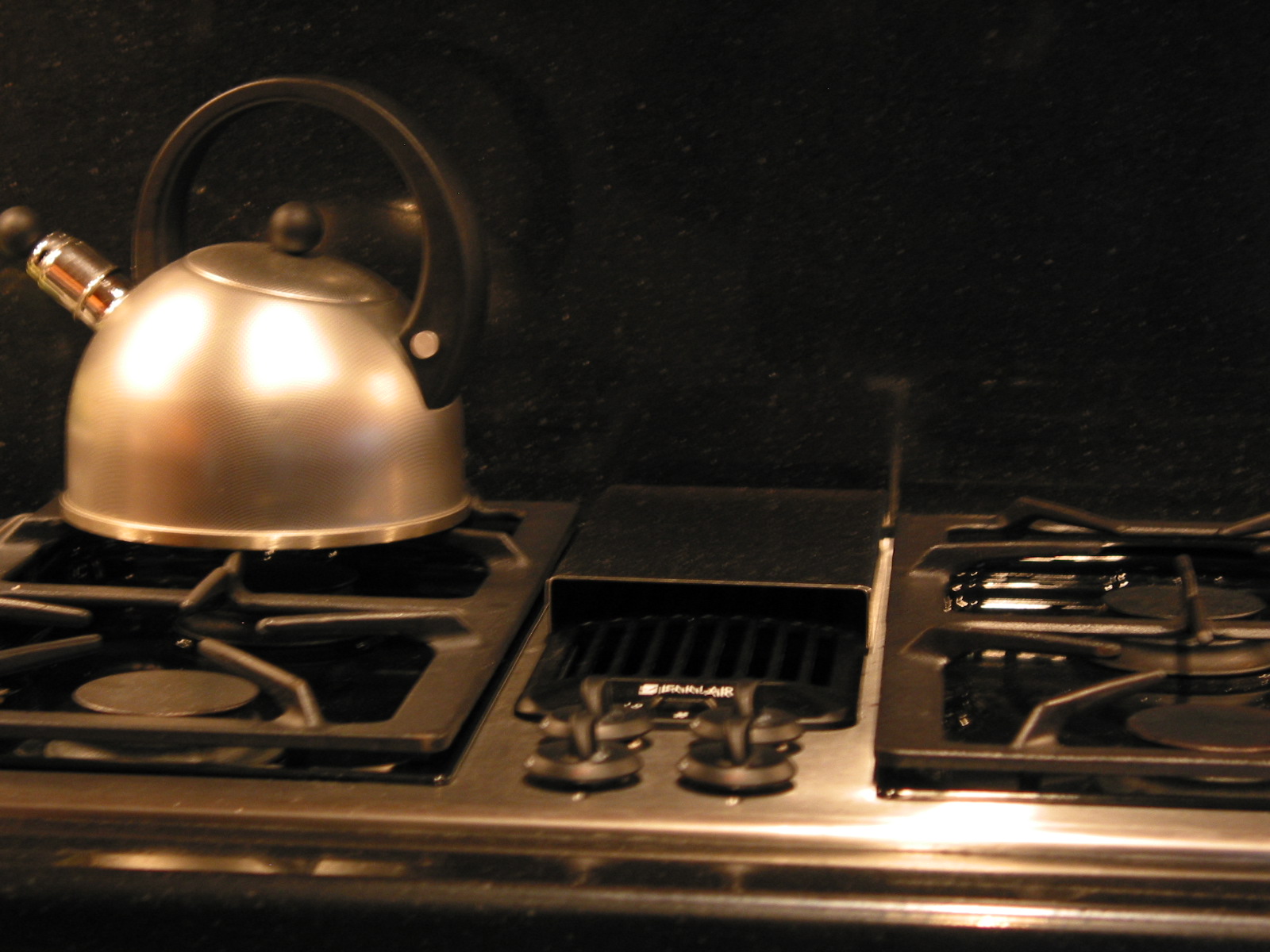 Stove top with front mounted controls and downdraft fan. The front mounted control keeps your hands away from open flame and are easy to reach.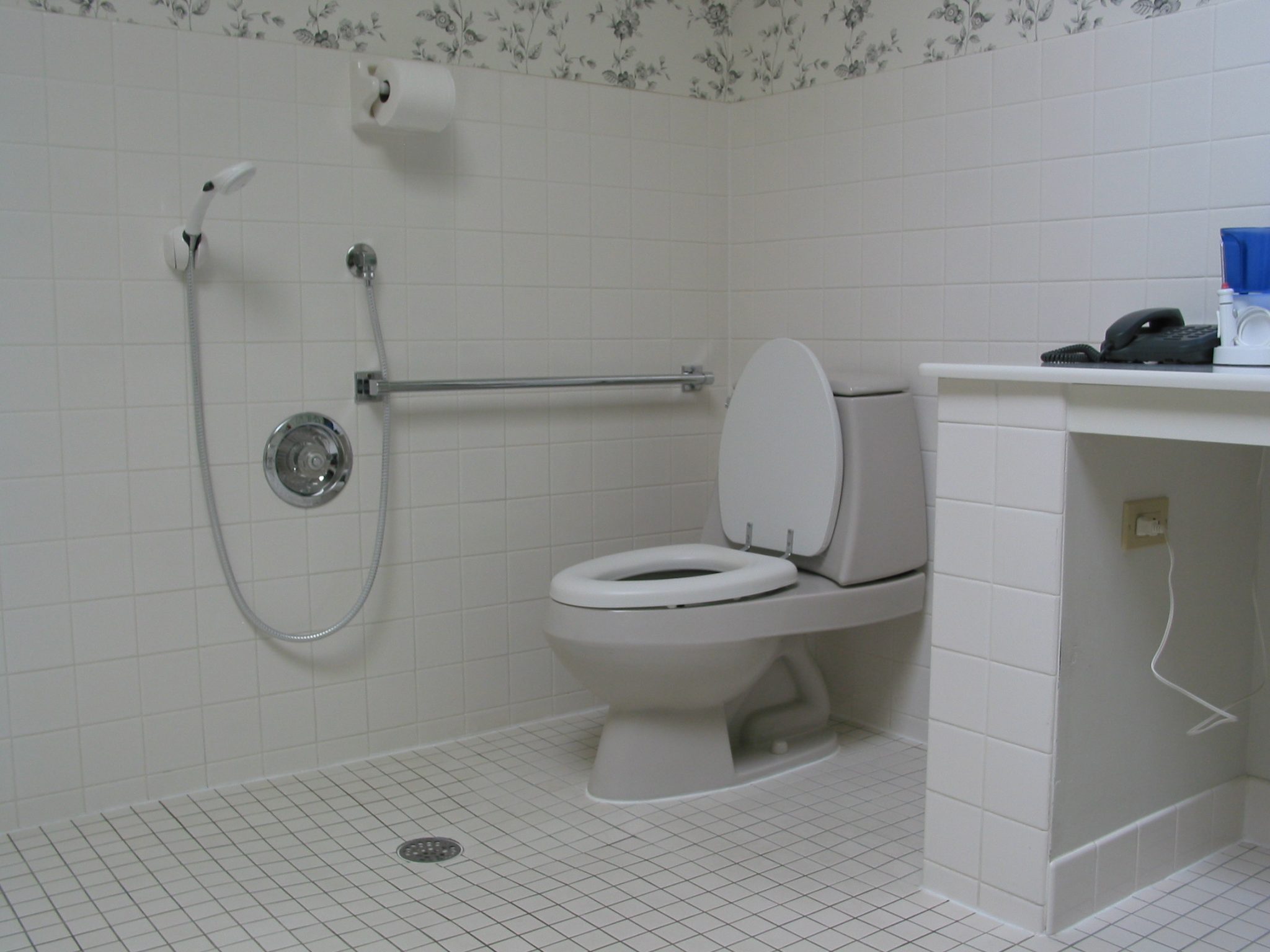 Shower/Toliet has tile surround, handheld shower, floor drain, padded toliet seat, toilet paper mounted high prevents it from getting wet.
Suction cup with built-in pump. Great for a temporary grab bar or an anchor point for ratcheting cargo strap/tiedown to secure wheelchair to bathtub.